Is the first born always a favourite? I love baking. I have always loved it more than I have loved cooking. I am yet to figure out why. It could be the influence of having started with one before the other. This seems to be true with all my hobbies. I learnt cross stitch in class 5 and continue to make stuff as enthusiastically using it even today. But crochet and tatting, or even sewing, have had to be satisfied with the tag of "also ran". The same is not true of my academics or career. In these matters, the youngest child always seems the most pampered one. (Yes, I have not always been in HR!)


If I had a choice between baking something for dinner and cooking something for dinner, it is anybody's guess which one I'd pick. Until recently, baking meant bringing out the flour. So it was the one reason that I put off baking. But I'm discovering healthy alternatives to most foods that I otherwise used frequently. And it was completely by accident that I started baking yeast breads with wheat flour. I happened to run out of all purpose flour. And that was a turning point.
Some time ago, I made pizza at home and tweaked the dough for the base. I must say I'm mighty glad I did!
For the dough:

1 cup Wheat Flour
½ cup Flour
3/4 tsp Salt
1 tsp Chilli Flakes
1 tbsp Garlic, chopped
1 tbsp Mixed Herbs
1/4 cup Milk

For the sauce:

1 Onion, sliced
2-3 medium Tomatoes, chopped finely
1 Capsicum, sliced (I used small portions of red and yellow capsicum)
1/8 cup Broccoli, cut
1/8 cup Sweet Corn
6 Button Mushrooms
3 pods Garlic, finely chopped
1 tsp Oregano
1 tsp Fresh Parsley, finely chopped
1 tsp Fresh Basil, finely chopped
Salt to Taste

100g Mozzarella Cheese, grated
1 tsp Olive Oil
For the dough:

Take a huge mixing bowl and place the oil, salt and sugar in it. Add boiling water and mix until the sugar dissolves. Add the milk now to bring the mixture to room temperature. Add the yeast and mix well. Add the chilli flakes, garlic and herbs. Add the wheat flour and flour and knead into a dough. Place the dough in a greased vessel and cover it with a damp muslin cloth. Allow to rise until double in size (roughly 45-50 minutes).
For the sauce:
In a pan, heat the oil and add the garlic and onions. Fry for a minute or two. Add the capsicum, mushrooms, corn and broccoli and fry for 2-3 minutes. Add the parsley, basil, oregano, chilli flakes, salt, sugar and pepper and fry for another minute. Add the tomatoes and fry for 2-3 minutes. Add the ketchup and cook the mixture for a couple of minutes.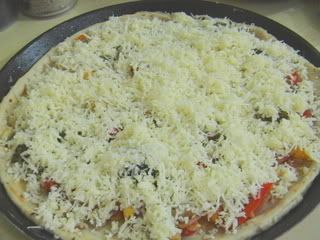 To Proceed:

Grease a pizza plate.

Spread the dough over the plate. (You could roll the dough using a rolling pin. I prefer doing this by hand.) Spread the olive oil over the dough. Spread enough sauce over the base. Sprinkle the cheese over the pizza.

Bake in a hot oven (400 F) for 20 minutes. When done, cut into wedges. Enjoy your meal.

I somehow didn't realize that I could compare notes with a dear friend who, for as long as I remember, has been "health conscious". Of late, I've been having food related discussions with her. Earlier, it was always about life, love and academics. It's funny how I never made this connection before. I spent quite a bit of time with her when I visited Madras as she was visiting with her daughter from Seattle. She treated me to home made whole wheat pizza.

Birthdays don't always have to be about cakes, do they? Actually, who am I kidding? They have to be about cakes. But I've given myself the liberty of celebrating the birthday of one my oldest (no, I didn't mean her age!!) friends with a wheat-herb pizza. Happy Birthday Shobhi!!