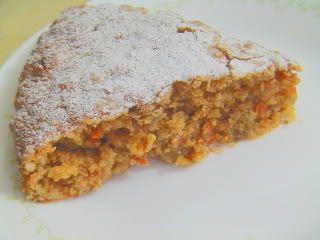 Chitra
did it. I can safely put the blame on her this time. This woman had been chasing me for a carrot halwa recipe since the time her little one, D, turned one. I think I gave her some vague inputs as I had never attempted making anything close to a halwa in my life. Finally, she made it last week when her little one turned 18 months. I had other plans. I've been wanting to make use of carrots before they go out of season. Sunny days in Delhi can only mean that summer isn't too far away. And that means that we'll soon be back to gourds and potatoes and the colourful mandis and redis will have become a thing of the past. But as with everything else in life, I know that winter and spring shall return.
Carrots. I have always loved them. The only thing I haven't done with them is make
upkari
. For some reason, I have never liked it. Amma didn't make it and I had it once at a friend's place and thought it wasn't exactly worth it. I can eat carrots in pulao, in salads, in mixed vegetable stir fries, in soups, you get the picture, don't you? But the upkari/poriyal/karumadu type of thing is just not my stick of carrot!
Carrots as dessert: I've always liked them. Carrot Halwa and Carrot Kheer. I haven't ever attempted to make these. I'm not sure I will. But who knows. Much as I am not a kheer person, I quite liked carrot kheer the one time that I was served it. But the one thing I've been wanting to make for over 3 years now since the very first time I tasted it at Barista is the carrot cake. I've seen umpteen recipes for this cake. Many called for ingredients I didn't have at hand. Many seemed unnecessarily complicated. Each of the four books that I acquired over the last few months has at least one recipe for carrot cake. I spent most of last evening poring over each book to come up with a recipe that combines just about all of them. The cake turned out really well and I'm over the moon.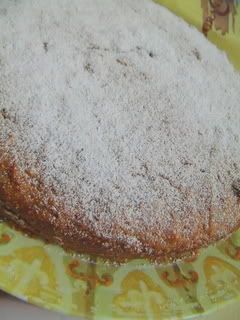 1 ¼ cup Carrots, grated
½ cup Cashews, powdered
¼ cup Almonds, powdered
¾ cup Brown Sugar
½ cup Oil
1 tsp Cinnamon Powder
A pinch of Nutmeg Powder
2 eggs
1 1/3 cup Flour
2 ¼ tsp Baking Powder
¼ cup Raisins

To Decorate:

1 tbsp Icing Sugar, sifted


Preheat the oven to 400F (200 C).

Grease and flour/line an 8-inch cake tin.

In a bowl, beat the eggs until light. Add the sugar and oil and beat well. Add the carrots, almond and cashew powders and raisins.

In another bowl, sift together the flour, baking powder, and the cinnamon and nutmeg powders. Fold in the carrot-egg mixture and mix gently until the dry ingredients are moistened. Pour into the prepared cake tin and bake for 30 minutes or until a knife/skewer, inserted into the centre of the cake, comes out clean.

Transfer the cake to a wire rack and cool. Sprinkle icing sugar over the cake using a small sieve.
My first attempt at making a carrot cake has been successful. I will probably try making a beet cake next. There's ample time for all that.

I made this little cake to wish my friends S and R a very happy anniversary. And of course, this is also to wish all of you a very Happy Valentine's Day! We cut it at midnight and relished it. This morning it was neatly cut into several portions to be distributed to friends.