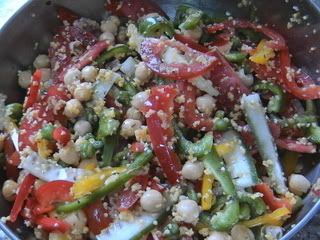 I moved to a hostel about 11 years ago. For someone who ate vegetables everyday until that point even if it was bitter gourd, hostel food was an eye opener. The food that was cooked seemed specific to no region. At least no region I know would claim that they cook beetroots until they turn green. Horrible would be the best word to describe the "vegetable" served at lunch time. No, wait. That might be an understatement. Also, every vegetable dish had loads of coconut, onions, fennel seeds and chana dal. Finding the actual vegetable of the day was like a treasure hunt. I went off vegetables during that period and ate rasam rice and papads for lunch. But I was not used to not eating my dear vegetables. On my way back from French class, I would stop by at the market to buy some salad vegetables. That was difficult too as I couldn't buy just one of each and I didn't have a fridge where I could store any thing I didn't consume the same day. Finally, I found one vendor in the Muthialpet market who'd give an assortment of vegetables for a fixed price everyday. A salad to me somehow always meant chopped cucumber and tomatoes seasoned with salt, sugar and pepper, garnished with some coriander leaves. It was almost as if there could be no deviation from this. But I got tired of that pretty soon and started adding radish, cabbage, carrots, onions and whatever else I could to increase my fibre intake. I would recommend a stay at the Pondicherry Central University girls' hostel to any of you who want to lose weight. Thanks to my focus on academics, the breaking up of an 8 year old relationship, and the wonderful food, I lost 10 kilos in 6 months flat. I still like to think of it as the food. I doubt acads and relationships had anything to do with it.



Thankfully, my awareness about salads has increased over the years, especially so in the 9 months that I have been blogging. I have found recipes for a variety of salads. I look at ingredients and then work out substitutes if I have to. At times, the end result is lip smacking and at others, the less said the better. Here's one lovely recipe that I cooked up. It was very tasty and filling. But what I loved about it was the fact that it was perfect eye candy!


½ cup Cornmeal
½ cup Green Chana (Green Garbanzo Beans)
½ cup Chickpeas, soaked and cooked
1 Cucumber, cut into strips
1 Carrot, cut into strips
½ each Red, Yellow and Green Capsicum, cut into strips
1 Tomato, cut into strips
1 tsp Mixed Herbs
1 tsp Chilli Flakes
1 tsp Roasted Garlic flakes
1 tsp Olive Oil
1 tbsp Lime Juice
Salt and Pepper to taste


Place the cornmeal in a microwave safe bowl. Add 1 cup of hot water and cook for 3 minutes on high.


In another bowl, place the salad vegetables along with the green chana and the chickpeas. Mix the olive oil and lime juice together and add the herbs, chilli flakes, garlic flakes. Add the cornmeal to the vegetables and pour the lime juice mixture over the vegetables. Season with salt and pepper and toss well.

This salad is so simple to put together that I am fairly certain I'll make this more often. I'm sending this to
Coffee
who is hosting this month's
Jihva for Ingredients
.