I love pizzas. I mean really really love them. But in all the years that I lived alone, I probably ordered pizzas about 5 times. That's like once in 2 years. Since the time I got married, we've ordered pizza exactly once. The day we shifted into the apartment we currently occupy. For some reason, I have never quite liked getting food home. For starters, there's the minimum order quantity. This means that, in all likelihood, we'll have leftovers. Then there's the problem of rotis applying for jobs at GoodYear or MRF. There's also the problem of transferring food to the right utensils, heating it up, bringing out the plates and cleaning up after the meal. Given the trouble involved, if I don't feel like cooking, I'd much rather just go out and eat. Somehow, even the hottest freshest pizza goes cold in the 30 minute trip to your doorstep.


How do I tackle my craving for this Italian creation? Earlier, I did this by making enough visits to Amma's. Now I do so by making it at home. Turning the all flour
version
to the
whole wheat version
was one step towards making my favourite food healthier. Making this folded pizza was the next step. I made do with just 5 grams of cheese powder as opposed to the 100 grams that I normally use in an open pizza.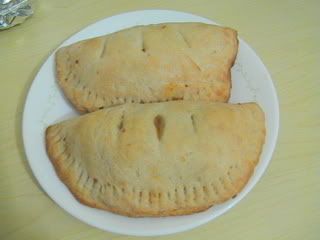 For the dough:

1 cup Wheat Flour
½ cup Flour
1 tbsp Yeast
1/8 cup Oil
1/2 tbsp Sugar
3/4 tsp Salt1 tsp Chilli Flakes
1 tbsp Garlic, chopped
1 tbsp Mixed Herbs
1/4 cup Water, boiling
1/4 cup Milk

For the sauce:

1 Onion, sliced
1 medium Tomato, chopped finely
1 Capsicum, sliced (I used small portions of green, red and yellow capsicum)
2 tsp Chilli Flakes
1/8 cup Broccoli, cut
1/8 cup Sweet Corn
1/8 cup Brinjal, chopped
6 Button Mushrooms, chopped
3 tbsp Spinach, chopped
3 pods Garlic, finely chopped
1 tbsp Cheese Powder
1 tbsp Tomato Ketchup
1 tsp Sugar
1 tsp Oregano
1 tsp Fresh Parsley, finely chopped
1 tsp Fresh Basil, finely chopped
1/2 tsp Pepper
1/2 tsp Olive Oil
Salt to Taste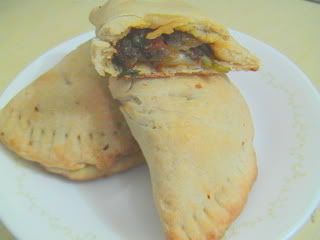 Take a huge mixing bowl and place the oil, salt and sugar in it. Add boiling water and mix until the sugar dissolves. Add the milk now to bring the mixture to room temperature. Add the yeast and mix well. Add the chilli flakes, garlic, and herbs. Add the wheat flour and flour and knead into a dough. Place the dough in a greased vessel and cover it with a damp muslin cloth. Allow to rise until double in size (roughly 45-50 minutes).
In a pan, heat the oil and add the garlic and onions. Fry for a minute or two. Add the capsicum, corn, brinjal, mushroom, spinach and broccoli and fry for 2-3 minutes. Add the parsley, basil, oregano, chilli flakes, cheese powder, salt, sugar and pepper and fry for another minute. Add the tomato and fry for 2-3 minutes. Add the ketchup and cook the mixture for a couple of minutes. This mixture should be much drier than pizza sauce.
Grease a pizza plate.Divide the dough into 4 equal portions. Spread each portion into a circle on a greased plate. Place a little sauce on one side of the dough and fold the dough over. Seal the edges and press down using a fork. Make slits on top.
Bake in a hot oven (400 F) for 20 minutes.This is so easy to make that I wonder why I didn't try this earlier. It tasted great at dinner time and was just as good the next day at lunch too. It would be great to take on a picnic or during travel.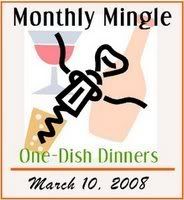 This one dish meal goes to Meeta for her Monthly Mingle. The theme this month is One-Dish Dinners. Other one dish meals at The Singing Chef can be found here.