I grew up in Madras. It remains my favourite city in India. I can defend it to the last drop of blood I have flowing in my veins, should the need ever arise. Thankfully, I doubt I'd have to. I have so many wonderful memories linked to that wonderful city. I have lived almost all over the country except the East. I have enjoyed living in most cities that I have called home since I left Madras. Delhi/Gurgaon is the only exception. I lived here before and when I left, I almost swore never to come back. I do remember telling my mother that I'd love to come back in 5 years' time as long as I'm making at least three times my (then) salary. Little did I know that my words would come true. I left in 2001 to come back in 2006, married to S. To a place I had never liked calling home. And after about a year and a half here, I still don't. One of the things I realize now is that I keep comparing this place to Madras. So, this time around, since I knew we were here for a fixed period, I decided to focus on the things that I do like, few and far between as they may be.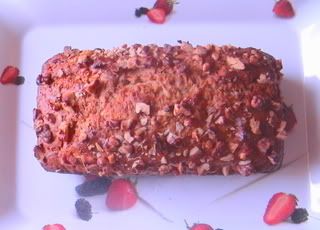 Most of my childhood memories are linked to Madras. The school I went to. The college where I realized I could be all that I wanted to be, if only I tried. The part time jobs I held that helped partially fund my years at University. The bakery from where my birthday cake arrived promptly, year after year. This bakery was also where where we'd rush after dance classes before catching the IIT bus back home. Adyar Bakery House is one place that I will never be able to forget. Their cookies and puffs were beyond description, but it was their cakes that really took the cake. They don't make much of the stuff they used to. They're probably changing with the times. I loved their walnut cake and tea cake. When I was going through my books to find a nice loaf to bake, I came across this recipe which instantly transported me to Sardar Patel Road in Madras.


I modified the recipe to make this loaf today.



1 cup Flour
3/4 cup Atta(Whole Wheat Flour)
2 medium ripe Bananas, mashed

Preheat the oven to 350F (180 C).

Grease and flour or line a loaf tin.


Combine the flour, wheat flour, brown sugar, baking powder and salt.


In another bowl, mix the mashed bananas, eggs, maple syrup, oil and milk until the mixture comes together. Pour this into the dry ingredients and mix until the dry ingredients are mositened. Transfer the batter to the prepared loaf tin. Sprinkle the chopped walnuts and bake for 50-55 minutes.




Today happens to be the birthday of one more of my partners in crime since my college days: Mangalam. It is almost amazing to see people call the college I went to the most boring of colleges in Madras. The four girls that I have been closest to over the last decade and a half all happened to be in the same college. And three of them walked into my life right there. I have enough and more memories linked to these friends that have Madras as the backdrop. And sometimes I wonder if I might have had as much fun back then if it wasn't for these girls. So, here's to you Manga. I hope you have a wonderful year ahead.