Wherever I go, I try and sample the local cuisine of the place. Of course I sample global foods without ever once having even flown over those lands. I'd never seek out Indian food while traveling abroad. Firstly, I am not the biggest fan of Indian food to have the face of this earth. I enjoy it as I do any food. Secondly, I don't like to lose out on the chances (to taste different cuisines) that life offers me. While in Paris, I had the misfortune of being with two Indians who'd seek out atrociously expensive Indian food at Strasbourg Saint-Denise every night. They spoke no French and they sort of emotionally blackmailed me all the time. They didn't know how to ask for food without any meat and were unwilling to learn basic French. To top it all, they thought a trip to McDonald's constituted sampling local food! I used to travel all over the city each day after work picking up small snacks along the way, taking in everything the beautiful city had to offer. My academics in Tourism will never be a waste. (And I can beg you all never to order Baingan Bharta anywhere in Paris!)


The first Indian state that I traveled extensively in happens to be Gujarat. I should have said the first Indian state that I didn't "belong to". This was about 21 years ago. Until that time, our travel was limited to the three states that I have called home: Maharashtra, Karnataka and TamilNadu. I don't count going to Tirupati as it is closer to Madras than it is to most urbanized parts of A.P. Gujarat left its indelible mark on me. Literally and figuratively. Literally as it was the very first time I was experiencing temperatures higher than 40 degrees Celsius. (Yes, Madras in those days wasn't half as hot as it is now.) I developed heat boils, which, as they healed, left scars on my neck and legs. (I even had to have one boil surgically removed.) Figuratively, I was so impressed with what the state had to offer that I made three or four trips since then. And I keep going back.


One of the things I love about any place is the food on offer. It's not like I'm never disappointed. But Gujarat has never disappointed me in this matter. From the khakhras to the dhoklas and khandvis to the theplas and rotlis to the quintessential khichdi and kadhi… I love them all. I once joked to my cousin about wanting to marry a Gujju boy so my MIL could feed me all the lovely stuff. She said, "Your MIL will probably get stuff from the shop, as it is so much simpler, which you can also do". Initially, I got my recipes from my dear friend M who could never understand why I loved her food so. As soon as Tarla Dalal came out with her Gujarati Cookbook, one copy was on my bookshelf.
I think this book of Tarla Dalal's is like the Rasachandrika of Gujarati cooking. The recipes that M gave me are almost identical to the ones in the book. So I love it even more. Khichdi and Kadhi is a combination that I used to make very often when I was single. There was this time when I was attending German classes in the morning and so had very little time to make lunch. I ate khichdi for lunch throughout this 7 week period. There's a slight variation to my khichdi and that is the addition of vegetables. I also add equal amounts of rice and dal as it makes me feel good. (Don't ask why!)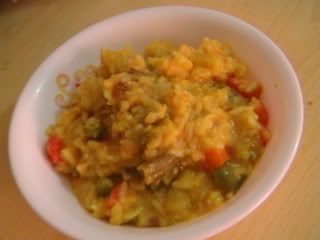 1 cup Rice (Basmati or Sona Masuri), washed and drained
1 cup Green Gram (Moong) Dal, washed and drained
1 tsp Oil
1 cup Mixed Vegetables (Carrots, Beans, Peas)
1 tsp Cumin Seeds
1 tsp Peppercorns
1" piece Cinnamon
2 Cloves
1 tsp Green Chilli Paste
¼ tsp Asafoetida
Salt to taste


Heat the oil in a pressure cooker and add the cumin seeds, asafetida, peppercorns, cinnamon and cloves. When the cumin crackles add the rice, dal and vegetables. Fry for a minute and add the chilli paste and salt. Add about 4-5 cups of boiling hot water and cook for 20 minutes (4-5 whistles).
While the khichdi is cooking, get the kadhi going.

2 tbsp Gram flour (Besan)
2 cups Curd
2 cups Water
½ tsp Green Chilli Paste
½ tsp Ginger Paste
2 Curry Leaves
1 tsp Sugar
Salt to taste

For the tempering:

1 tsp Ghee (clarified butter)
1/2 tsp Cumin Seeds
½ tsp Mustard Seeds
¼ tsp Asafoetida
1 Red chilli, broken into bits


Beat the curds with the gram flour and water until you get a smooth mixture. Add the green chilli and ginger pastes, curry leaves, sugar and salt. Bring this mixture to a boil on a low flame.


In a frying ladle, heat the ghee and add the cumin seeds and mustard seeds. When the mustard splutters, add the asafetida and the red chilli. Add the tempering to the kadhi and boil for 1-2 minutes.


Serve the kadhi along with the khichdi. This would also go down as a classic comfort food for me. S doesn't care much for kadhi and sometimes I make the mixed vegetable khichdi alone which we have with pickle and curd.


This is my first entry to the
Regional Cuisine of India: Gujarat
event which is being hosted by Mythili. if time permits, I'll send in my other recipes too. I'd like to send the Khichdi to