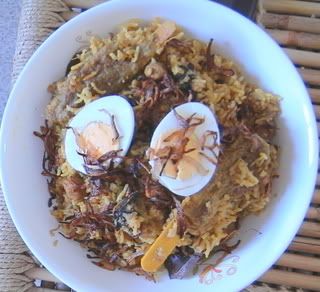 Biryani. The very word makes my mouth water. Made differently in each state in India, I've often heard people say, "This isn't authentic, ours is." Well, I've always loved Egg Biryani and have ordered it as often as possible. I never attempted making it at home (without a readymade mix, i.e.). And somehow, my food never smells good. I know some people whose kitchens start spreading aromas almost as soon as they've placed the pan over the flame. With my cooking, it almost never happens. Until a week ago, I could safely say, "It never happens", but my biryani changed all that. For the very first time in all these years of cooking, the aroma of my cooking actually made us drool. So, I don't know if this authentic or not. I didn't cook it in layers, I didn't cook the rice separately from the rest of the stuff and I didn't marinate anything and I most definitely used no curd.


But nonetheless, I think it was great and I'm sharing with you my very first attempt at a biryani.


1 cup Basmati Rice, washed and soaked
4 Eggs, boiled, peeled and halved
¼ cup Soya Chunks, soaked and drained (optional)
4 Fake Chicken Drumsticks, cooked (optional)
2 tbsp Oil
1 Bay Leaf
3 Star Anise flowers
1 Green Cardamom
1 tsp Cumin Seeds
1 Onion, sliced
Salt to taste


To Garnish:

¼ cup Fried Sliced Onions
2 tbsp Coriander Leaves, chopped


To be Ground to a Paste:

1 tsp Cumin Seeds
1 tsp Coriander Seeds
1 tsp Poppy Seeds
1 tbsp Cashews
1 tbsp Peanuts
1/4 tsp Carom Seeds
1 Onion
4 pods Garlic
4 Red Chillies
1 tsp Fennel Seeds


Heat the oil. Add the cumin seeds, star anise, cardamom, bay leaf and onion. Fry for about 3-4 minutes. Add the paste and fry for about 5 minutes. Add the rice, soya chunks, fake chicken, eggs and about 1 and ¾ cup boiling water. Add salt to taste. Pressure cook for 3 whistles on a low flame.

Garnish with the fried onions and coriander leaves. Serve with a raita.
This is off to Think Spice - Think Star Anise hosted by Sunita. I brought Star Anise from Madras as I was forced to. I needed it to make Sig's Kadala Curry. I couldn't find this spice in any shop then (despite drawing it for the shop keepers) and I am so happy that I could use it now.